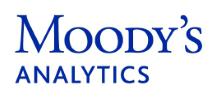 Senior Software Engineer (Python) - Moody's Analytics
Prague, Prague
The Role / Responsibilities:

Moody's is looking for a talented Python developer to join our growing team in Prague, to work on cloud-based analytical solutions for securitisation pricing and analytics. These analytics are used by central banks, investors, traders and portfolio managers globally. Leveraging the power of cloud computing we can deliver powerful analytics that run-in seconds instead of hours, and the Python modules we have developed to support this infrastructure are being widely re-used both within Moody's and through licensing to clients. The quality of the existing code is high, with good test coverage and documentation. It will be your job to help maintain these standards as you contribute enhancements and new functionality. The vision for this role is that you will become the lead developer on certain key Python projects, working directly with the business stakeholders and project managers.

The team is globally responsible for product innovation within the structured finance line of business, with a presence in Prague, London and New York. In addition to high performance cloud computing, we are also exploring the application of AI, blockchain and other innovative methodologies to support the objectives of our line of business, with has a revenue of over $120 million globally.

In addition to being a strong Python developer, experience with Lambda, S3 and DynamoDB is highly desirable but we would be willing to train the right candidate who is strong in the other areas. This is an outstanding opportunity to join a major player in the global capital markets and get exposure to the multi-trillion dollar securitisation market, and we are willing to consider candidates from outside the finance sector provided they have the technical skills as well as a strong numerical background in a field such as physics, accounting or engineering.

Responsibilities include


Support and enhancement of existing Python projects (Python 3.7+, asyncio) and test cases (pytest)
Working with native Linux and Windows APIs (ctypes)
Enhancing, optimising and debugging code
Working with Excel and VBA solutions that leverage the Python cloud analytics
Collaborating with financial engineers
Ability to handle multiple assignments concurrently and independently manage time.
Ability to apply superb analytical skills and persistence in problem solving.
Work with minimal guidance from senior team members
Qualifications - required:

Strong command of Python, including asyncio.
Some mathematical background e.g. through finance sector experience and/or degree in physics, accounting or engineering.
Strong written and verbal communications skills.
Good understanding of software architectures, particularly cloud-based / serverless.
Experience with standard dev tools: Jira, Github.
Qualifications – desirable:

Excel and VBA experience
Lambda, S3, DynamoDB experience
Experience with the analysis of securitisations (CLO, RMBS etc)
The Department / Team

The Content Solutions - Structured division of Moody's Analytics creates award winning software, comprehensive datasets and transparent models for the securitization market. Our platform is widely recognized for its unique abilities to support detailed analysis of the most sophisticated structured debt products. Our clients vary from regional banks to Tier I investment banks to hedge funds who structure, manage, and invest in the structured finance market. Our data content reflects past performance of transactions as well as models of the structural rules (waterfalls) governing them. Our analytic models allow customers to analyse the performance of these securities for pricing, trading, and risk management purposes. Our teams in South San Francisco, New York, London, Prague and Tokyo support over 250 institutional clients globally.

Working at Moody's

We have impact. So will you.

The views of each Moody's employee matter and, collectively, those views contribute to our ability to serve credit-sensitive markets worldwide. Diverse opinions are encouraged and leverage the depth and breadth of experiences that our employees bring to work each day. We expect Moody's employees to be accessible and collaborative and, in return, Moody's offers a work environment that promotes intellectual curiosity, analytical rigor and collegiality. Our people and our environment uphold our core values of integrity, insight, intellectual leadership, inclusion and independence.

Moody's is an essential component of the global capital markets, providing credit ratings, research, tools and analysis that contribute to transparent and integrated financial markets. Moody's Corporation (NYSE: MCO) is the parent company of Moody's Investors Service, which provides credit ratings and research covering debt instruments and securities, and Moody's Analytics, which offers leading-edge software, advisory services and research for credit and economic analysis and financial risk management. The Corporation, which reported revenue of $3.6 billion in 2016, employs approximately 10,800 people worldwide and maintains a presence in 42 countries. Further information is available at www.moodys.com

EEO Language Moody's is an equal opportunity employer. All qualified applicants will receive consideration for employment without regard to race, color, religion, sex, national origin, disability, protected veteran status or any other characteristic protected by law.

Securities and Trading Policy

Candidates receiving an offer to join Moody's Investors Service or Moody's Shared Services shall be required to disclose their securities holdings and those of their family members as defined by Moody's Policy for Securities Trading. Such holdings will be reviewed by the hiring manager during the offer process to identify any potential conflicts of interest. Moody's Human Resources department shall inform the prospective employee of any potential conflicts and remediation actions required. Any formal offer of employment is contingent upon the Candidate's agreement to comply, in advance of employment, with remediation requirements identified by Moody's.