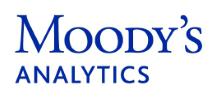 Product Consultant - Moody's Analytics
Prague, Prague
The Role:

Are you looking for a dynamic team that values teamwork and collaboration? Would you like to make an impact in the credit risk space by helping our customers manage their risk? Would you like to become an expert in our cutting-edge cloud-based software solutions? Join our growing Centre of Excellence based in Prague.

As a Product Consultant, you will:


Assist clients with all stages of implementing Moody's Analytics Banking Cloud solutions
Configure our software solutions to clients' specifications
Collaborate with project managers to build and maintain a project plan and issues list
Provide feedback to product managers on the software
Become a leading expert in the next generation of our cloud-based software solutions
Cultivate a learning environment on the business domain and how to best implement our products
Contribute to our rigorous testing practices to ensure utmost product quality
Ideal Qualifications:
Bachelor's Degree in Computer Science, Mathematics, Finance or equivalent practical experience
Experience of working within a software implementation role
Experience in the Banking Industry within risk management
Other Relevant Knowledge and Experience:
Basel III exposure gained in a Bank, a consultancy firm or a software engineering company
Appetite to learn and remain current on banking risk regulatory frameworks
Relevant professional qualifications (e.g.FRM or CFA) are a plus
Technical skills on Relational databases and SQL
Strong querying abilities and data analysis skills
Experience in data mapping between systems of financial and risk data
Knowledge of data modelling within the banking sector
Skills in improving data quality, data validation and troubleshooting
Excellent oral and written communication skills; client presentations and writing project documentation
Fluent English is essential in order to work with our clients, additional European languages are advantageous.
The Department / Team:

Part of Moody's Analytics group, the ERS – Risk and Finance Organizational Unit (OU) builds and deploys fully integrated solutions on credit, market & liquidity risk and ALM software products.
This OU builds software to help banks around the world assess the overall health of their balance sheets and generate reports for regulators and other stakeholders. We know that regulatory and accounting standards and the technological demands of our customers are subject to change, which is why we employ a continuous cycle of innovation that allows us to offer nimble and agile solutions to our customers' problems.

Working at Moody's

We have impact. So will you.

The views of each Moody's employee matter and, collectively, those views contribute to our ability to serve credit-sensitive markets worldwide. Diverse opinions are encouraged and leverage the depth and breadth of experiences that our employees bring to work each day. We expect Moody's employees to be accessible and collaborative and, in return, Moody's offers a work environment that promotes intellectual curiosity, analytical rigor and collegiality. Our people and our environment uphold our core values of integrity, insight, intellectual leadership, inclusion and independence.
Moody's is an essential component of the global capital markets, providing credit ratings, research, tools and analysis that contribute to transparent and integrated financial markets. Moody's Corporation (NYSE: MCO) is the parent company of Moody's Investors Service, which provides credit ratings and research covering debt instruments and securities, and Moody's Analytics, which offers leading-edge software, advisory services and research for credit and economic analysis and financial risk management. The Corporation, which reported revenue of $4.4 billion in 2018, employs approximately 13,100 people worldwide and maintains a presence in 42 countries. Further information is available at www.moodys.com

EEO Language
Moody's is an equal opportunity employer.