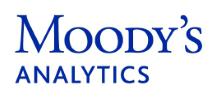 Database Engineer - Moody's Analytics
Prague, Prague
Moody's (NYSE: MCO) is a global integrated risk assessment firm that empowers organizations to make better decisions. Our data, analytical solutions and insights help decision-makers identify opportunities and manage the risks of doing business with others. We believe that greater transparency, more informed decisions, and fair access to information open the door to shared progress. With over 11,000 employees in more than 40 countries, Moody's combines international presence with local expertise and over a century of experience in financial markets. Learn more at moodys.com.

Moody's Analytics provides financial intelligence and analytical tools supporting our clients' growth, efficiency and risk management objectives. The combination of our unparalleled expertise in risk, expansive information resources, and innovative application of technology, helps today's business leaders confidently navigate an evolving marketplace.

Department

The Economic and Consumer Credit Analysis team, a division of Moody's Analytics, is a leading independent provider of economic, financial, country, and industry research designed to meet the diverse planning and information needs of businesses, governments, and professional investors worldwide. Our research has many dimensions: country analysis; financial markets; industrial markets; and regional markets. Moody's Economy.com information and services are used in a variety of ways, including strategic planning; product and sales forecasting; risk and sensitivity management; and as investment research.


#LI-LA1


Job Description

This role is responsible for maintaining and expanding the company's historical and estimated time series databases, including independently improving existing processes and procedures to increase productivity, timeliness, and quality of output.


Maintain and expand historical and estimated macroeconomic databases
Administer databases containing economic time series data to ensure data quality
Maintain timeliness, accuracy and completeness utilizing FAME, VBA, C#, SQL and other applications and software
Navigate multiple proprietary interfaces
Research the availability of economic and demographic time series
Establish and maintain data provider relationships
Acquire historical time series data by gaining expertise in assigned industrial and geographic domains
Solve problems related to the management of these databases by utilizing independent judgment and critical thinking skills
Improve existing processes and procedures to increase productivity and quality of output
Generate and maintain metadata in order to accurately document managed datasets for ease of client use
Ensure client satisfaction, including speed and quality of responses to our existing clients via web conferences, phone calls, emails and interactive chats
Qualifications
Undergraduate or advanced degree with course work in economics, finance, statistics, or related fields preferred.
Excellent academic record and strong proficiency in computer use.
Programming languages such as R, Stata, SAS, C# or Visual Basic are a plus.
Knowledge of a foreign language is a plus.
Ability to work independently or in a team environment and be able to accept responsibility for independently making decisions that have a significant and material impact on the success of the firm.
Strong interpersonal skills are a must.

Moody's is an equal opportunity employer. All qualified applicants will receive consideration for employment without regard to race, color, religion, sex, national origin, disability, protected veteran status, sexual orientation, gender expression, gender identity or any other characteristic protected by law.

Candidates for Moody's Corporation may be asked to disclose securities holdings pursuant to Moody's Policy for Securities Trading and the requirements of the position. Employment is contingent upon compliance with the Policy, including remediation of positions in those holdings as necessary.